I'm So Old, I Remember When It Was Called "The" Ukraine
My grandfather was still a teenager when his family fled from Czarist Russia and came to New York. They were Jews from beyond the Pale-- rural Ukraine. Growing up, I never thought of myself as Ukrainian; they were the oppressors of Jews when my grandfather lived there... and later, fascist collaborators with the WWII Nazis. When I was in college, what is now NY's very chic East Village, was a rundown neighborhood in transition-- going from a Ukrainian ghetto to a hippie haven. The Ukrainians were not taking the invasion lightly and brutalized hippies whenever they could get away with it. Leaving a concert with Sandy Pearlman and his girlfriend/my housemate, Joan Shapiro, one time, we were set upon by a rabid gang of Ukrainians on a lonely street where Sandy's car was parked. He ran south; Joan and I took off in the other direction and made it to the safety of the Psychedelicatessen near Tompkins Square Park. The Ukrainians caught Sandy and stuffed him in a metal trashcan and rolled him down Avenue A. So I've had a bad feeling about Ukrainians going way back. (Although I do make a mean borscht.)
Speaking of which... decades later, I was in Moscow and wandered into "the best" Ukrainian restaurant in town, Taras Bulba, named for an 1835 Gogol character, a fictional Ukrainian national hero. In a review I wrote 2 weeks later I noted that it "was the worst restaurant I tried during my whole time in Russia. The chain was started in 1999 in Moscow and there are 16 restaurants there, one in Kiev and one in New York. One is down the street from the Baltschug Kempinski, where I stayed, and the concierge recommended it as a good place for hearty Russian food nearby. A stone's throw from the Kremlin, how bad could it be, I figured. Maybe I should've gotten the clue when we walked in and found it empty save one table of drunk German tourists, but we didn't. The food wasn't just supremely mediocre, the bill was triple what it should have been. When I asked why there where three times more items on the bill-- in Russian of course-- than what we ordered, they explained that when you order, say, fish and potatoes and a vegetable the way it's listed on the menu, they charge you for each component, although there's certainly no indication of that on the menu. As Roland said, "thank God they didn't charge us for the dill and the salt." So not only was it a bad dinner in a creepy atmosphere with bad service, it was extremely expensive, even though you'd never think that by looking at the menu."
In other words... I was never a big fan of Ukraine... until Putin's invasion. Then I started entertaining thoughts of a later-day Spanish Civil War and going to fight fascists/kill Russians. I was dreaming of taking out Russian tanks. I'm still sympathetic to the Ukrainians and horrified by the atrocities I'm seeing on TV... but I've recently decided not to go die there.
Not a Silverlake punk band-- The young congressman Richard Nixon (far right of course), with fellow members of the House Un-American Activities Committee in 1948, rode the anti-Communist inquisitions to power with the help of the Dulles brothers.
There are just over a million Ukrainian-Americans, the largest concentrations being in New York, Pennsylvania, California, New Jersey, Ohio and Illinois. A few years ago I spoke with John Loftus, author of America's Nazi Secret about post WWII Republicans flooding Pennsylvania, Ohio, Michigan, Illinois, New Jersey and Wisconsin with anti-Semitic, pro-Nazi refugees-- some of whom had personally taken part in the Holocaust-- from Ukraine, Belarus, Slovakia, Poland and the Baltic states. "Nixon," he told me, "always blamed the Jews for his narrow loss to JFK, and tasked George H.W. Bush as co-director of the RNC to recruit the Eastern European groups." Earlier, the Dulles brothers were at the nexus of an immigration policy that brought hundreds of thousands of Nazis into America (not atomic scientists, most just Nazi thugs from all over eastern Europe). Their communities--in places like South River (Middlesex County, New Jersey)-- are far more anti-Semitic than anything in the modern day South. In South River the Belarusian community center on Whitehead Ave., built for Nazi war criminals by the CIA, is also the local Republican Party headquarters.
The Dulles brothers were the embodiment of where Wall Street, and the intelligence community blended seamlessly into the far right, pro-Nazi Republican Party and the inept Cold War jingoism. They overrode Truman's and Congress' ban on allowing Nazi war criminals into the country-- let alone employing them-- purging their records and getting them U.S. citizenship. John Foster Dulles, who now shamefully has an airport named after him near our nation's capital, was steeped in Wall Street backing for prewar Hitler and was at all times looking out for the interests of the wealthy Republican investors who invested in the Nazi take-over, particularly the Rockefellers and the Bushes. They had decided to open the floodgates to Nazi collaborators throughout Eastern Europe once Truman was defeated by Dewey.
Even without that widely expected outcome, states like Pennsylvania, New Jersey, Ohio, Michigan etc, became sanctuaries for Nazi collaborators and war criminals from Eastern Europe. Nixon saw them as a counterbalance to the hated Jews, who, at least in those days, always voted for the Democrats, and Eisenhower gave him supervisory powers over the operations to bring them to America. Ironically, many of the refugees had been infiltrated by Russian Communists and the entire program was an absolute disaster, bringing the U.S. no Cold War benefits whatsoever and costing the country hundreds of millions of dollars, but, eventually, helping elect Republican rightists from Nixon to Trump.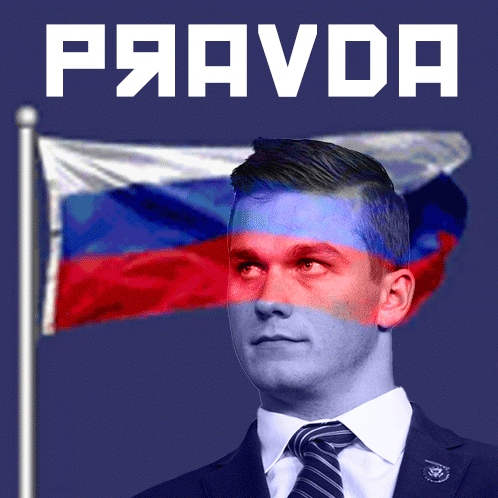 Today, Democrats are hoping to persuade Ukrainian-American voters in swing states like Ohio, Pennsylvania, Michigan and Florida to switch their party allegiance based on the GOP's pro-Putin orientation. This morning, Julia Manchester wrote that Democrats are "aiming to portray Republicans as weak on Russia in messaging directed at Ukrainian Americans, who, while not monolithic, have in recent history leaned conservative when it comes to foreign policy issues." She pointed to an OpEd in Florida by Ukrainian-American ex-Republicans Halyna Traversa and Nestor Olesnycky savaging Marco Rubio. "Over the past several weeks," they wrote, "Ukrainian Americans have watched in horror as Vladimir Putin launched an invasion of our ancestral homeland. Our spare time has been filled with organizing efforts, fundraisers, and meetings to help the millions of our fellow Ukrainians fleeing the war. Across Florida and the U.S., Ukrainian American groups have helped provide medical equipment to Ukrainian hospitals, funded humanitarian relief to civilians in cities under fire, and supported aid organizations working with refugees. We're proud that our leaders in America are doing much of the same thing. The Biden administration has sent military and humanitarian aid to Ukraine, and is leading the world in imposing new sanctions on Vladimir Putin's regime. But as Floridians, we can't overlook one glaring exception. Our senior Senator, Marco Rubio, has put his own political agenda ahead of supporting Ukraine."
A new report revealed that Marco Rubio has been skipping out on years' worth of important hearings on Russian aggression in Eastern Europe, protecting our NATO allies, and the threat of war in Ukraine. As a member of the Commission On Security And Cooperation In Europe, Rubio was expected to show up for meetings to hear from ambassadors, foreign officials, and security experts as Russia prepared to invade. Instead, he spent at least part of that time going on cable news to promote his own agenda.
This is hardly new behavior for Senator Rubio. He missed an important national security briefing to attend a presidential fundraiser during his 2016 campaign, earned one of the worst attendance records in the Senate during his first term, and skipped over a dozen hearings late last year on issues ranging from foreign policy to protecting senior citizens from financial scams. Marco Rubio doesn't let his duties as a Senator get in the way of advancing his political career, even if it means failing to show up to confront some of the world's most important issues.
Rubio's absenteeism is particularly egregious given recent events. Even a war against one of our allies that threatens democracy and drives up prices for hardworking Floridians has not motivated him to drop his self-serving agenda and do the right thing. Case in point: his recent decision to vote against sending military and humanitarian aid to Ukraine as part of the recent government funding bill. While a bipartisan majority in Congress was able to come together to support this legislation, Rubio voted against it. He not only opposed funding to help Ukraine, but voted against legislation to prevent a government shutdown, against providing funding for Florida police and public schools, and against protecting the Everglades. It's clear that Rubio is far more interested in scoring points with his party to bolster his presidential ambitions than doing what's right for Florida and our country.
While Rubio has been pushing messages recently claiming to "stand with Ukraine," Floridians shouldn't be fooled. He is a career politician who will say whatever it takes to get reelected, even if it means voting against those bravely fighting on the front lines of Ukraine while claiming to stand with them, or voting against funding for our police and schools while claiming to support Floridians.
Our state deserves leaders who show up for work, stand with our allies, and do what's necessary to stand up to authoritarians like Vladimir Putin, all of which Marco Rubio has failed to do. When Floridians like us need him most, he refuses to show up. But we have a chance to change that in November's elections. It's time to fire Marco Rubio and elect someone who will put us-- not their personal partisan agendas-- first.
This month, a Democratic SuperPAC rolled out a five-figure, partial Ukrainian-language print ad in cities with large Ukrainian populations like Cleveland and Philly, hitting Mike Pompeo, Ted Budd, Josh Mandel, JD Vance and Paul Gosar for past comments on the Russian invasion of Ukraine. "Republicans," wrote Manchester, "are largely united in favor of Ukraine and against Putin. But a small number of lawmakers or candidates have questioned the U.S.'s stance on the invasion-- and Democrats were quick to highlight those remarks. After six House Republicans voted against a bill directing the government to collect evidence 'related to war crimes and other atrocities committed during the full-scale Russian invasion of Ukraine,' the DCCC tweeted that 'The GOP's Pro-Putin faction is anti-democratic.'"
In Ohio, where there are a lot of Ukrainian Republicans, Vance is toast for his remarks-- which he has since tried desperately to walk back-- that he doesn't "really care what happens to Ukraine one way or another."
Strategists on both sides of the aisle say Vance's initial comments made him sound unfamiliar with northeastern Ohio's rich Ukrainian communities.
"Has he ever been into the Slavic villages of Cleveland? Obviously not," said one Ohio Republican strategist. "Drive Interstate 71 north into Cleveland and look east. You will see Ukrainian church tops for the next couple miles."
Those who serve the Ukrainian community say that comments questioning U.S. involvement with Ukraine do nothing to help candidates with Ukrainian Americans at the ballot box.
"It would infuriate them," said Andrew Nynka, the editor-in-chief of the Ukrainian Weekly, a publication that was initially established to serve the Ukrainian American community.
"If you had a Republican-leaning Ukrainian in those areas and they cared about abortion and a candidate said 'I'm pro-life,' I think the Ukrainian might say 'I'll factor that in,' but if that same candidate came out and said 'I don't understand why we're siding with Ukraine,' I think they're such single-issue voters that they would say 'I don't care, I'm voting you out of office,'" Nynka added.
... [I]t's been conservative Fox News host Tucker Carlson who has received much of the ire of the Ukrainian American community for his rhetoric, which they say is overly sympathetic to Putin.
A group of Ukrainian American protesters made headlines on Saturday when they held a silent demonstration outside of a San Diego church Carlson was speaking at.
Carlson's comments have drawn backlash from Democratic and Republican Ukrainian American voters alike.
"I was a big fan of Tucker Carlson," said Myron Kuropas, a Ukrainian American and former professor at Northern Illinois University. "He's gone off the deep end for me and for most Ukrainians."
Democrats have used comments from Carlson, as well as GOP lawmakers and candidates, to hit their Republican opponents over the issue of Ukraine.